Window locks for UPVC
Double Glazing UPVC Window locks for all types of windows.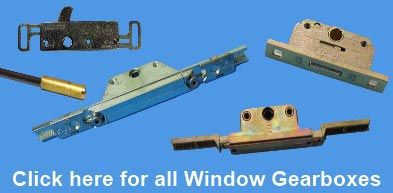 The locks on this page fit most types of UPVC window but it is advisable that you replace your lock with one of the same type and model if it is still made. Handles and Hinges stock 1000's of window locks and can usually find an exact replacement ( if it is still made) or offer an alternative that will fit your window and save you pounds on fitting a new one.
If you are unsure of the lock you need or even if you just need some reassurance with your lock choice. Either call us on the phone (the old fashioned way) or email us with a photo of your existing lock.
Some of the major Manufacturers of hardware are listed below but if you dont see your particular make please contact us. It was not unknown in the window industry for Manufacturers to make parts for companies and the company put there own stamp on it. A little bit like some of the big Grocery stores do.
Avocet Coldseal Kenrick Maco Mila Roto Saracen Trojan