Fire Escape / Easy Clean window hinges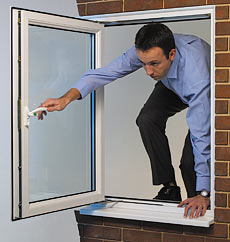 Conforming to all current British Building Standards and FENSA requirements. This range allows the window to be opened to 90º , ensuring emergency access in the event of a fire.
A simple mechanism also allows the window to smoothly slide along the track to be cleaned from inside the building fire escapes.Will fit all types of Double glazing installations.
There are different styles of double glazed windows and we have various friction hinges to suit them such as Side Hung, Top Hung, Restricted Opening or Slimline. Click on the different style to go to that page.
If you're not sure which hinges you need then call the Handles and Hinges team on 01204 652211
Product
Qty in Cart
Quantity
Price
Subtotal
Adding your products to cart