Universal Window & door gasket seal - also available in Black



UPVC gaskets that can be used in many door and window situations. Easy to fit and simple to cut.
SOLD BY THE METRE ** A typical door will need 6 metres **

Packing Advice: Due to its foam inners (rather than harder rubber) this gasket is very tricky to pack for postage and despite all our best efforts can become kinked in transit. We have found that once you unwrap and allow the foam inner to expand that the kinks lessen.

The universal gasket is great for doors where the gasket seal has split or worn and a replacement cannot be found. This gasket fits 95% of UPVC doors and windows and can be used to stop draughts and water ingress.
Available in both black and white to suit UPVC front and back doors.
Also good on interlockers on UPVC French doors.
PLEASE NOTE:
As gasket is custom cut to the individual requirements we cannot accept returns.

If you are unsure which gasket you need then please use our gasket sample pack: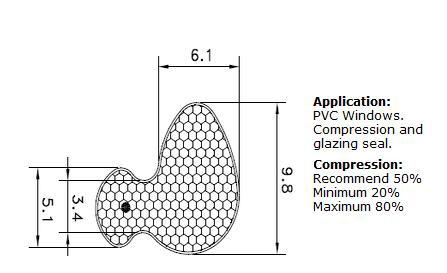 Information from the Manufacturer:
Fire rating: Smoke retardant
Special features: Durable and UV resistant polyethylene cladding bonded to resilient urethane foam for an outstanding sealing against air and water filtration
Other information: Recommended Seal Gap3.0 - 5.0mm, Throat 3.0mm