WHITE Vitawin Espag UPVC Window Handles - NEW Style
SKU:

WH-ESP-VIT-White

UPC:

MPN:

WH-ESP-VIT-White

Condition:

New

Availability:

In Stock

Shipping:

Calculated at Checkout
Frequently bought together:
Description
NEW STYLE White UPVC replacement double glazing window handles

by Vitawin

to repair or replace your current espag handles
These are an inline handle and so will work on left or right handed windows
Spindle sizes in 10mm, 15mm, 20mm, 30mm and 40mm.
Distance between screw holes is 43mm
Fixing bolts sold separately
Click here if you're not sure how to measure the spindle length
Not sure what window handle you need?
Call us on

01204 652211

for free advice
What is an espag window handle?
First off lets explain what an espag is. An espagnolette (shortened to espag) locking system is the metal strip which runs up the locking side of a window and moves when the handle is turned. They most often have round studs on them called mushrooms which move up and down (or side to side depending on how your window sits). The mushrooms catch into a metal plate on the window frame called a keep. In the centre of the espag is a gearbox with a square hole in it, the spindle from the handle goes through this hole and when the handle is turned it operates the mechanism.
So the handle which moves an espag mechanism is called an espag window handle.
The double glazing industry has made some parts of an espag handle standard – the fixing holes are always 43mm apart and the spindle is always 7mm wide. The length of the spindle will differ and can range from 10mm up to 40mm. Some companies occasionally used longer spindles but these have been phased out generally.
Just to spoil the descriptions the espag handle also operates other types of systems in upvc windows such as gearboxes and shootbolt systems. But these systems have stuck to the standards and are operated using espag window handles
Espag Window Handle Measuring Guide
Simple steps to help you Measure the Spindle for your Window Handle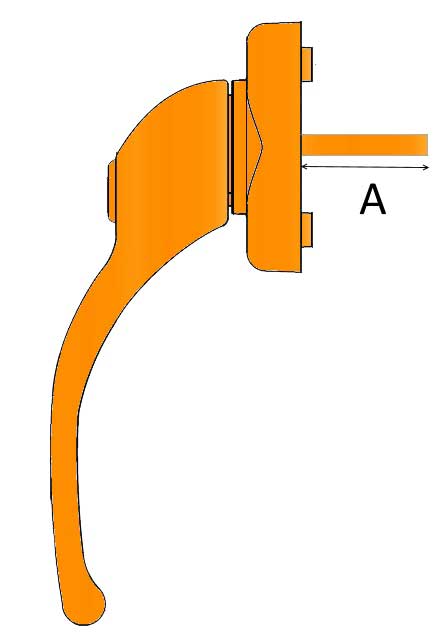 Make sure the spindle is pushed right back in to the existing handle and then measure the amount it protrudes from the handle as per (referenced A) the drawing on the left.
If you do not have a handle you can measure the existing Window Bolts you have. The bolts should be the same length as the spindle length that you need but it is not always the case
DO NOT MEASURE THE SPINDLE TOTAL LENGTH WHILST IT IS OUT OF THE HANDLE,
THIS WILL RESULT IN A SPINDLE THAT WILL BE TOO LONG FOR YOUR WINDOW
View All
Close
Frequently Asked Questions
Frequently Asked Questions
Yes. All espag handles have fixing points which are 43mm apart
This depends on your level of DIY skills but most people should be able to manage.
If all the handles are the same make then 1 key will fit them all.
View All
Close
Additional Information
| | |
| --- | --- |
| Handle Measuring Video: | |
| Distance Between Screws: | 43mm |
| Colour: | White |
| Style: | Non-handed |
| Spindle: | 10mm |
| Spindle: | 15mm |
| Spindle: | 20mm |
| Spindle: | 30mm |
| Spindle: | 40mm |
| Shipping: | Delivered from just £1.44 |
View All
Close
11 Reviews
You really cannot go wrong with these people 1st choice everytime

You really cannot go wrong with these people 1st choice everytime

You really cannot go wrong with these people 1st choice everytime

My first visit to and first order by this company. From start to finish most pleasantly surprised. Ordered, packed and shipped all in one day. Also response to telephone call displayed good customer practice. Very pleased to get upgraded handles for 24 year old windows. Will use again and recommend to others.

NOTE: THIS IS A GENUINE CUSTOMER REVIEW.


ours windows are older windows and our handle was broken I was worried not I would not find one, sent an email and staff where so helpful and advised what was best , I have got the item and fits great thank you will use again

replacement casement window handle

Easy to fit and matched original

Excellent service

WHITE Vitawin Espag UPVC Window Handles - NEW Style

Quick delivery, good product, thanks....

Did the job , excellent replacement
View All
Close