Monkey Tail Espag Window Handles in Antique Black
SKU:

WH-ESP-MONKEY-Black

UPC:

MPN:

WH-ESP-Monkey-Black (8A069)

Condition:

New

Availability:

In Stock

Shipping:

Calculated at Checkout
Frequently bought together:
Description
Monkey Tail Espag Window Handle "specially engineered" for UPVC windows

in Antique Black
A monkey tail handle is traditionally used on wooden windows but Fab and Fix have created this handle to be used on modern upvc windows with an espag locking system.
Supplied with 1 key and colour co-ordinated fixing bolts
Spindle size: 40mm

The spindle is marked at 5mm increments to allow easy cutting if a shorter spindle length is required.
Distance between screw holes is 43mm
These handles are handed, click here if you are unsure which hand you need.
Also available in Hardex Gold, Hardex Chrome and Hardex Graphite.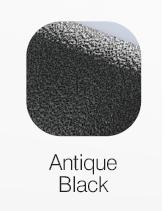 Not sure what window handle you need?
Call us on 01204 652211 for free advice
Information from the manufacturer

Elegantly designed Monkey Tail handle for espagnolette windows


- Retains the classic looks of period windows; but compatible with modern locking systems

Inspired by 19th century ironmongery


- Classic finish to a heritage window

Strength tested to equivalent of a modern espagnolette window handle


- Strong espagnolette operator

Manufactured from die-cast zinc with specially formulated finish


- Harder wearing finish than traditional wrought iron furniture

Supplied with colour coordinated screws


- Perfectly matching hardware, even down to the smallest detail

Slotted 40mm spindle


- Allows cropping to 5mm increments

Key locking


- Security enabled

Matching

Monkey Tail Dummy Stay Bar also available


- Create a perfectly matching heritage window
Technical Specification
All finishes salt spray tested to 480 hours (BS EN 1670: Class 5)
Designed for PVC-U and Timber windows systems
Includes 3 x 4mm x 25mm colour coordinated screws
What is an espag window handle?
Firstly let's explain what an espag is. An espagnolette (shortened to espag) locking system is the metal strip which runs up the locking side of a window and moves when the handle is turned. They most often have round studs on them called mushrooms which move up and down (or side to side depending on how your window sits). The mushrooms catch into a metal plate on the window frame called a keep. In the centre of the espag is a gearbox with a square hole in it, the spindle from the handle goes through this hole and when the handle is turned it operates the mechanism.
So the handle which moves an espag mechanism is called an espag window handle.
The double glazing industry has made some parts of an espag handle standard – the fixing holes are always 43mm apart and the spindle is always 7mm wide. The length of the spindle will differ and can range from 10mm up to 40mm. Some companies occasionally used longer spindles but these have been phased out generally.
Just to spoil the descriptions the espag handle also operates other types of systems in upvc windows such as gearboxes and shootbolt systems. But these systems have stuck to the standards and are operated using espag window handles
Espag Window Handle Measuring Guide
Simple steps to help you Measure the Spindle for your Window Handle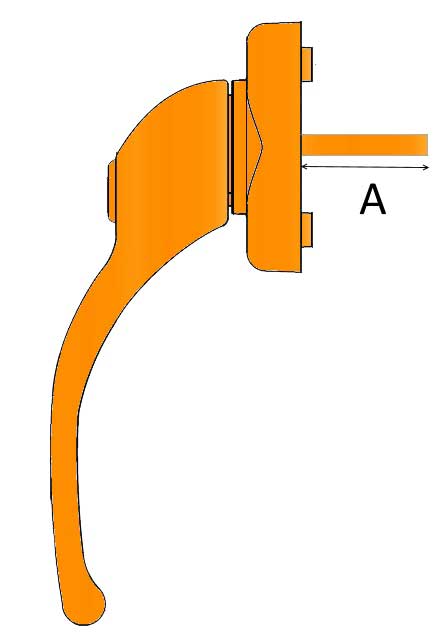 Make sure the spindle is pushed right back in to the existing handle and then measure the amount it protrudes from the handle as per (referenced A) the drawing on the left.
If you do not have a handle you can measure the existing Window Bolts you have. The bolts should be the same length as the spindle length that you need but it is not always the case
DO NOT MEASURE THE SPINDLE TOTAL LENGTH WHILST IT IS OUT OF THE HANDLE,
THIS WILL RESULT IN A SPINDLE THAT WILL BE TOO LONG FOR YOUR WINDOW
View All
Close
Frequently Asked Questions
Frequently Asked Questions
Yes. All espag handles have fixing points which are 43mm apart
This depends on your level of DIY skills but most people should be able to manage.
Yes. However they will be 40mm long so if your spindle is shorter than this you will need to cut them down or re-use your old bolts.
If all the handles are the same make then 1 key will fit them all.
View All
Close
Additional Information
| | |
| --- | --- |
| Distance Between Screws: | 43mm |
| Colour: | Black |
| Style: | Handed |
| Spindle: | 40mm |
| Shipping: | Delivered from just £1.86 |
View All
Close
8 Reviews
Excellent quality, strong and elegant. Fantastic

Monkey Tail Espag window handles in antique black

A fantastic product! Not cheap but you get what you pay for and these are of the highest quality. I ordered 27 in total and transformed our windows on our 1850 cottage. You do have to cut the spindles and bolts to size but with a good hacksaw its no big deal. Would recommend this product if you are looking to update your PVC handles, especially on an older style property.

Monkey Tail Espag Handles

What a difference these make! I really don't like the uPVC windows we inherited when we bought the house but there are so many, we can't afford to replace them. These handles are easy to fit and look so much more decorative than the regular white straight ones. The ridged bar which goes into the mechanism can be cut to the right length (we did that). The black-topped screw which came with the handle was too long for our window mechanism so we reused the screw from the original handle - I will blob some black paint on it to disguise it. Overall, very pleased. We will be using them all over the house - much cheaper than getting new windows..

Fantastic Product and Service

These handles look even better than in the photos. Theyt were easy to fit and really improve the look of the windows.
I received excellent serevice, ordering on one day and receiving them the next. I will definitely use H&H again, if I need to.
Thank you

Great product, good quality and easy to fit. Really improved the overall look of my windows. Very fast delivery also.

I looked at and purchased different versions of this type of handle, to test, and I found this product to be the best. The product was easy to fit even though I had to cut the spindle and bolts.

Prompt delivery a good customer service. No risk buying here in my view.

Absolutely wonderful monkey tail handles (black) that make the plastic windows look so much nicer. Easy to fit and well worth the money.

Monkey Tails--The finishing touch

We are absolutely delighted with our 'Monkey Tail' handles. They were easy to fit and have maintained the 'Cottage ' look to our new windows, thoroughly recommend them to any prospective customers.
View All
Close