UPVC replacement double glazing window handles to repair or replace your current espag handles.
This Connoisseur inline window handle by Fab and Fix is made in Aluminium and was previously known as the Aficionado handle.
Available in White and Black.

Supplied with 1 key and screw covers and 2 fixing bolts.

Spindle sizes in 10mm, 15mm, 20mm, 30mm and 40mm.

Distance between screw holes is 43mm

Spindle width is 7mm

Spare keys available

Fixing Bolts included
These are an inline handle and so will work on left or right handed windows.
Stylish window handle with white wipe clean button for white handle and black for all others. Comes with co-ordinated metal cover caps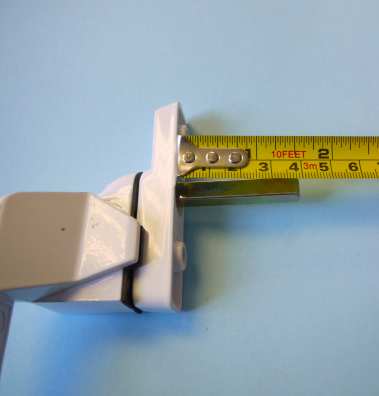 Not sure what window handle you need?
Call us on

01204 652211

for free advice
Technical details:
Die cast aluminium lever
- The perfect balance of price and performance

Solid zinc baseplate
- Stability and security

Heavy duty sprung latching block
- Positive click on closing

Long handle with 50mm window clearance
- Greater leverage and easy to operate without catching a hand on the window

Classic design with a contemporary twist
- Create an elegant and stylish window

Patented cover caps with colour coordinated finish
- Perfectly matching components, even down to the smallest details

Key clicks into place when inserted
- Won't fall out of the lock, even when pivoting the lever

Slotted spindle (40mm version only)
- Allows cropping to 5mm increments
Espag Window Handle Measuring Guide
Simple steps to help you Measure the Spindle for your Window Handle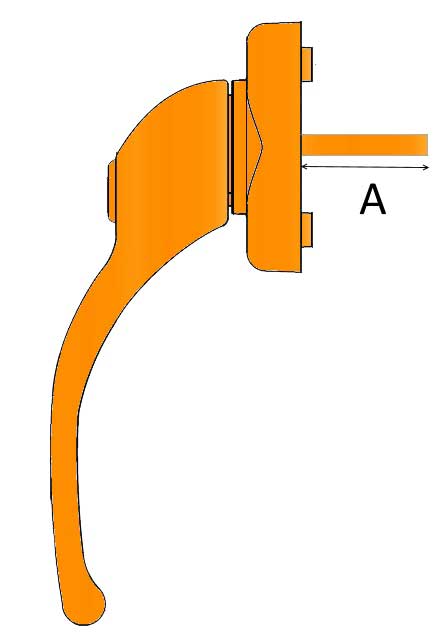 Make sure the spindle is pushed right back in to the existing handle and then measure the amount it protrudes from the handle as per (referenced A) the drawing on the left.
If you do not have a handle you can measure the existing Window Bolts you have. The bolts should be the same length as the spindle length that you need but it is not always the case
DO NOT MEASURE THE SPINDLE TOTAL LENGTH WHILST IT IS OUT OF THE HANDLE,
THIS WILL RESULT IN A SPINDLE THAT WILL BE TOO LONG FOR YOUR WINDOW
Frequently Asked Questions
Yes. All espag handles have fixing points which are 43mm apart
This depends on your level of DIY skills but most people should be able to manage.
If all the handles are the same make then 1 key will fit them all.