White handles to

suit double glazed doors using the Ferco multipoint locks with 70mm centre and 215mm screw centre.
Also available in Anodised Gold and Anodised Silver, click here to see the alternative colours.

Measurements
Distance between screws: 215mm
Handle to barrel centre: 70mm
Handle total length: 235mm

These handles are non-handed so will work on Left or Right handed doors

These handles use 7mm door spindles

** Care should be taken not to confuse these handles with the Fullex system which has a centre of 68mm.**
Contents:
1 x internal handle, 1 x external handle, 1 x 7mm spindle and fixing screws,

Not sure what door handle you need for the Ferco system?
Call us on 01204 652211 for free advice
These handles are available with 3 different backplate sizes.
- If your 70mm handles have a screw centre of 180mm click here to go to the correct handles
- If your 70mm handles have a screw centre of 200mm click here to go to the correct handles

Door Handle Measuring Guide
Simple steps to help you choose the Correct Door Handle for your Door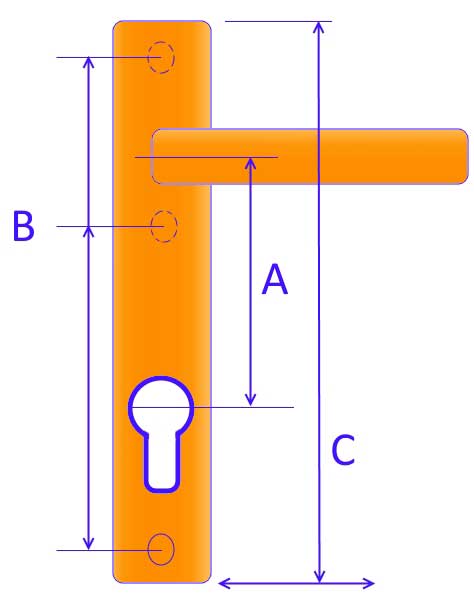 First you need to measure between the centre of the handle (the bit that you pull down) and the centre of the keyhole. If you look at the picture to the left this measurement is referred to as A This size is set so make sure you measure carefully. This size is known as the handle CENTRES or PZ. You will find this size as part of the description of all the door handles on our site.
The next size you need to take is the screw centres (referred to as B). To do this you measure from the centre of the top screw to the centre of the bottom screw (some handles have screws under the handle or over the handle.) Once you have these sizes (write them down) you can browse our site for handles that you need.
To make shopping easier now you are armed with the correct sizes CLICK our very simple Door Handle Calculator below to take you to exactly what you need.