Trojan Unicorn Letterplate / Letterbox 12" / 300mm for use in UPVC or Aluminium double glazing doors
Although this is classed as a 12" letterplate all sizes are metric.

Size of letterbox frame is 300mm x 70mm

Internal measurement is 255mm x 43mm
Comes with telescopic sleeves to suit midrail setting of 40-80mm.
Colours available:
White, Black, Satin Silver, PVD Chrome or PVD Gold with Black end caps

White, PVD Chrome or PVD Gold with colour co-ordinated end caps


Information from the Manufacturer
KEY PRODUCT FEATURES
A unique and elegant design with minimal plastic surround.

Letter flaps are made from stainless steel for ultimate corrosion resistance.

Flaps open to 180 degrees, eliminating any excess leverage on pivot points.

Stainless steel return spring to ensure a continuous positive return action.

External flap has a complete peripheral seal that also forms a full thermal and acoustic barrier.

Cycle tested to 100,000 operations.

Detachable clamping screw boss for alternative direct face fixing to panel.

30 year corrosion guarantee.
A front door is a focal point of most properties and the hardware should reflect this. The Trojan letter plate has been designed very much with aesthetics in mind with its simple but elegant styling, designed to complement any door.
The construction is unique with pressed metal flaps that shroud the surround from view. With optional high polished finish in chrome and PVD gold, gives a quality appearance with extremely high corrosion resistance and UV stability.
Stainless steel torsion springs significantly increase durability in use and in the event of abuse.
TESTING AND ACCREDITATION
Corrosion Test
UKAS laboratory tested to BS EN 1670 to grade 5 classification (480 hrs salt spray).
Cycle Test
Opening and closing action of flap tested to 100,000 cycles.
UV Test
Independent laboratory tested to ISO4892 part 3.
Weather Test
In house tested in line with BS EN13724:2002.
Abusive Pull Test
In tests where a load is applied to the letter flap to simulate someone pulling a door closed, the Trojan letter plate achieves loads in excess of twice that of conventional plastic pivot / torsion spring designs.
Letterbox Measuring Guide
There are different sizes of letterboxes or letterplates available. In some cases the letter box you have may not be made any more, but in 99% of cases the letterboxes we sell are able to fit your door.

Please use our guide below on choosing the correct letterbox for your double glazed door


Remove your letterbox.

Then measure the aperture (letterbox hole) in the door

Find a corresponding size below. You may find there is a few millimetres difference to your existing letterbox your door can be trimmed (if needed) using a stanley knife or similar.

Click on the letterbox below that suits your size and you will be sent to the product page.

Order your letter box
If your not sure whether you need a Panel Or Midrail Letterbox just take a look at the comparison below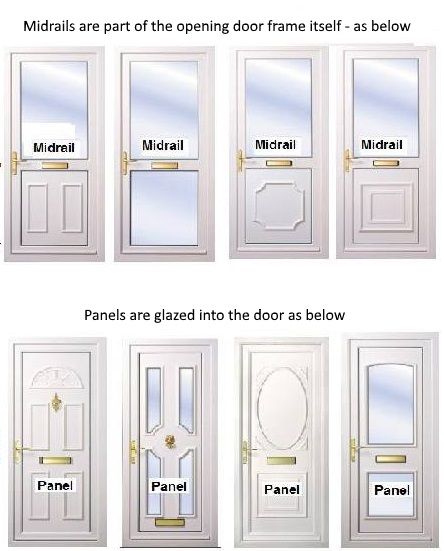 12" Slimline letterbox Tech spec

10" Standard Letterbox Tech Spec

12" Standard Letterbox Tech Spec

If you are not sure which letterbox you
need call us on 01204 652211