WHITE Universal UPVC replacement window handles to replace current espag handles on double glazed windows.
For customers unsure of what spindle length is required this handle is truly one size fits all.
Easy to fit window handle. Unique patented spindle system allows spindle length to be selected by the customer and easily fitted.
All handles come with 5 different length, easy to swap spindles.
Supplied with 1 key and screw covers

Comes with 5 spindles

Good replacement for Anglian handles with 55mm spindle


Distance between screw holes is 43mm

Spindle width is 7mm

Spare keys available

Fixing bolts not included, these can be bought separately. Click here for bolts

These are an inline handle and so will work on left or right handed windows.
Also available in Gold, Chrome and Brushed Chrome.
Not sure what window handle you need?
Call us on

01204 652211

for free advice
Espag Window Handle Measuring Guide
Simple steps to help you Measure the Spindle for your Window Handle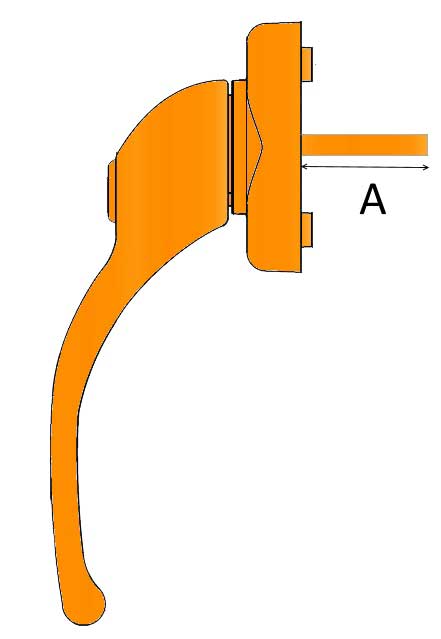 Make sure the spindle is pushed right back in to the existing handle and then measure the amount it protrudes from the handle as per (referenced A) the drawing on the left.
If you do not have a handle you can measure the existing Window Bolts you have. The bolts should be the same length as the spindle length that you need but it is not always the case
DO NOT MEASURE THE SPINDLE TOTAL LENGTH WHILST IT IS OUT OF THE HANDLE,
THIS WILL RESULT IN A SPINDLE THAT WILL BE TOO LONG FOR YOUR WINDOW
Frequently Asked Questions
Yes. All espag handles have fixing points which are 43mm apart
This depends on your level of DIY skills but most people should be able to manage.
If all the handles are the same make then 1 key will fit them all.