Coldseal Tallon Replacement Window Lock KIT - 1000mm
SKU:

WL-KIT-TALLON-1000mm (5055621400116)

UPC:

5055621400116

MPN:

WL-KIT-TALLON-1000mm

Condition:

New

Availability:

In Stock

Shipping:

Calculated at Checkout
Frequently bought together:
Description
This kit is a REPLACEMENT / WORK AROUND for the Tallon window lock that was fitted by Coldseal windows.
The original lock is no longer made and this kit has been put together through trial and error by our own Service Engineer and will fit most Coldseal windows. It is not a direct replacement so some adjustment will be needed, this could range from simply changing the keeps, or some customers have to enlarge the hole that the gearbox sits it. Whatever adjustment is needed it is far cheaper than buying a whole new window.
You can use your old handles but the locking system and espag plate will be thrown away.
** Due to postage restrictions on length these can only be sent via Courier. **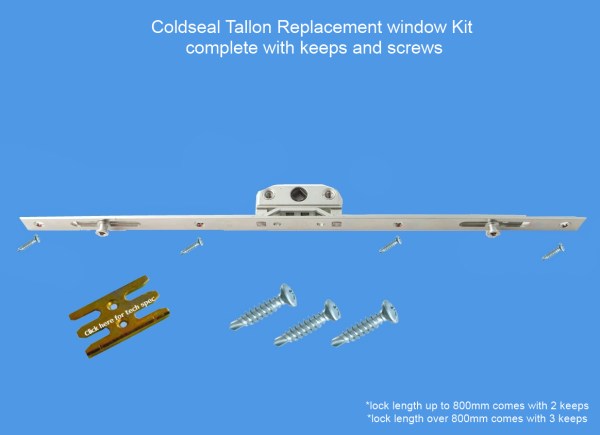 Backset Measurement: 22mm
Information from the manufacturer
Inline espagnolette bar designed for profiles without a eurogroove.

Profile related keeps with night vent position.

Adjustable mushroom cams.

19mm cam travel.

360 hours salt spray corrosion resistance.
Not sure what window lock you need?

Call us on

01204 652211

for free advice
View All
Close
9 Reviews
COLDSEAL TALLON REPLACEMENT WINDOW LOCK KIT - 1000MM

Had to remove quite a lot of material to make the cavity deep enough and wide enough. Window seemed to flex a little where material had been removed but when lock and bar fitted it was solid. Would recommend this product.

Cold seal replacement window lock

It solved the problem well, you do need to remove more pvc to enable the lock to be inserted so can be a bit fiddley. It's best to do lot's of 'offering up' before cutting and or drilling.

COLDSEAL TALLON REPLACEMENT WINDOW LOCK KIT - 1000MM

Works perfectly. Just had to enlarge the slot for the gearbox with chisel and multisaw. Wondered beforehand if the mushrooms would clear the frame as they do not rebate - but no problem!

N/a

Got the product which helped a lot to replace an obsolete window lock

Not being a window fitter I didn't know what to order. Found this and took a punt. It was a big bigger than the old one but thought it would be OK. It fitted a treat!! I didn't use the keeps that came with it as the old ones slotted in the frame better, I just moved them out a bit to match the mushrooms. All in all spot on and would buy again.

Coldseal replacement window lock set

Spot on kit, but as it's more robust I just had to open up the hole in the frame for the gearbox, small price to pay for a better lock, many thanks H&H

An excellent product. Fitted first time with no alteration required. Job done in 10 mins saved a fortune by not having to replace the whole window.

Coldseal replacement mechanisms

This product was an excellent find as I thought I would have to replace the windows when the original locks failed. They appear to be of a significantly better standard than the original albeit the fitting meant some modifications to the lock insert slot in the frame making it potentially difficult for the not so handymen out there. I used a key hole hacksaw and a small wood chisel to enlarge the hole and each windows took around an hour including the removal from the frame and the reinstallation but fantastic results.
View All
Close